Introducing our scientifically approved Anti Grey Hair Serum, a potent solution that combats premature greying with exceptional efficacy. Our serum is a powerful leave-in treatment that targets melanin grey hair production, preventing and reversing the signs of grey hair. Enriched with antioxidants, it effectively reduces oxidative stress within the hair bulb, revitalizing your locks from within. By stimulating melanin production in greying hair, our serum helps restore natural pigmentation, ensuring vibrant and youthful-looking strands. Suitable for both men and women, this serum nourishes and hydrates your scalp and hair with its rich vitamin-infused formula.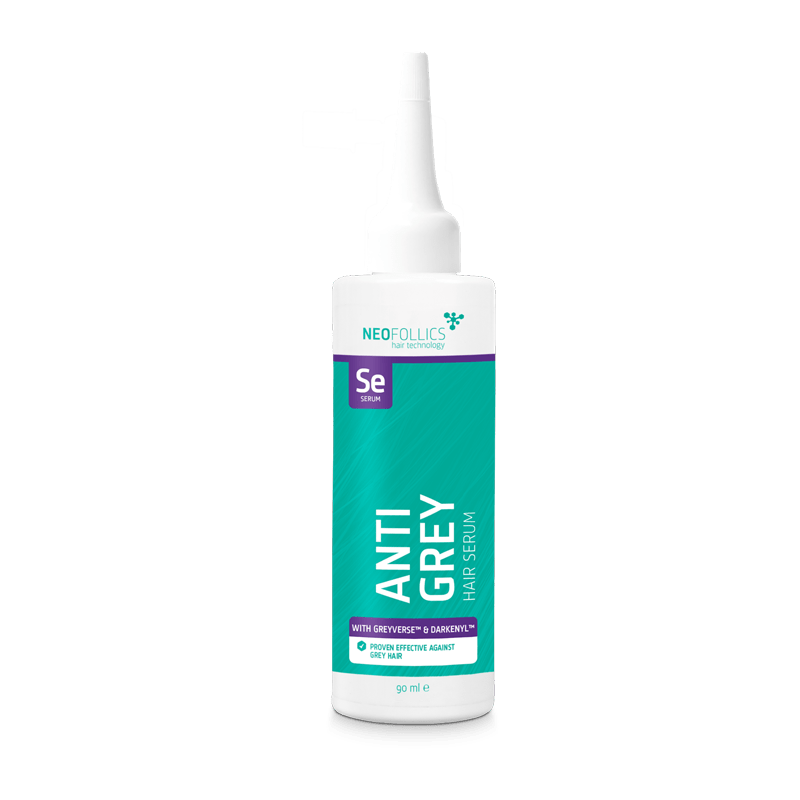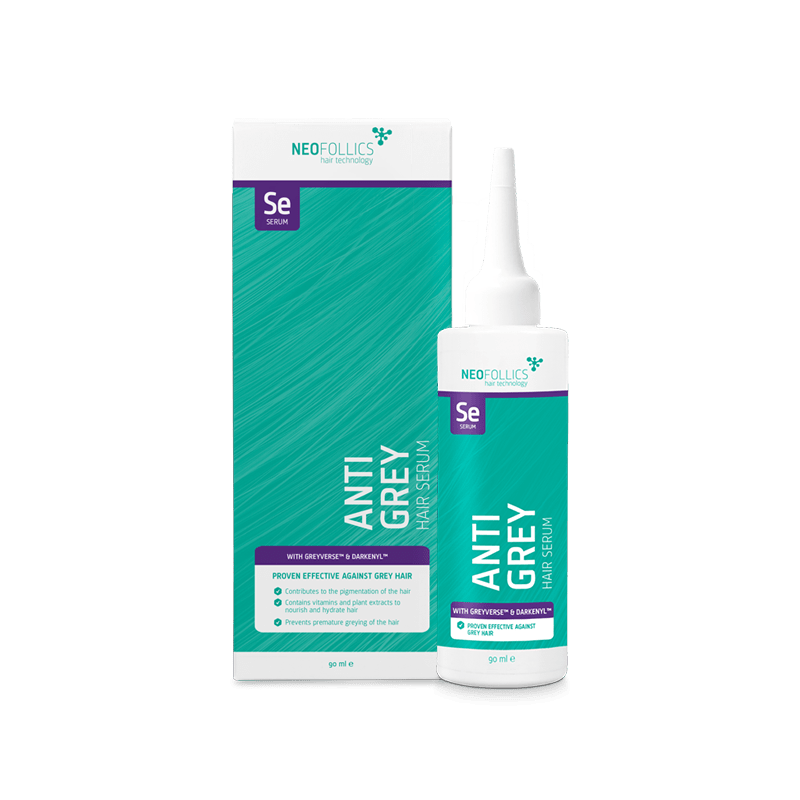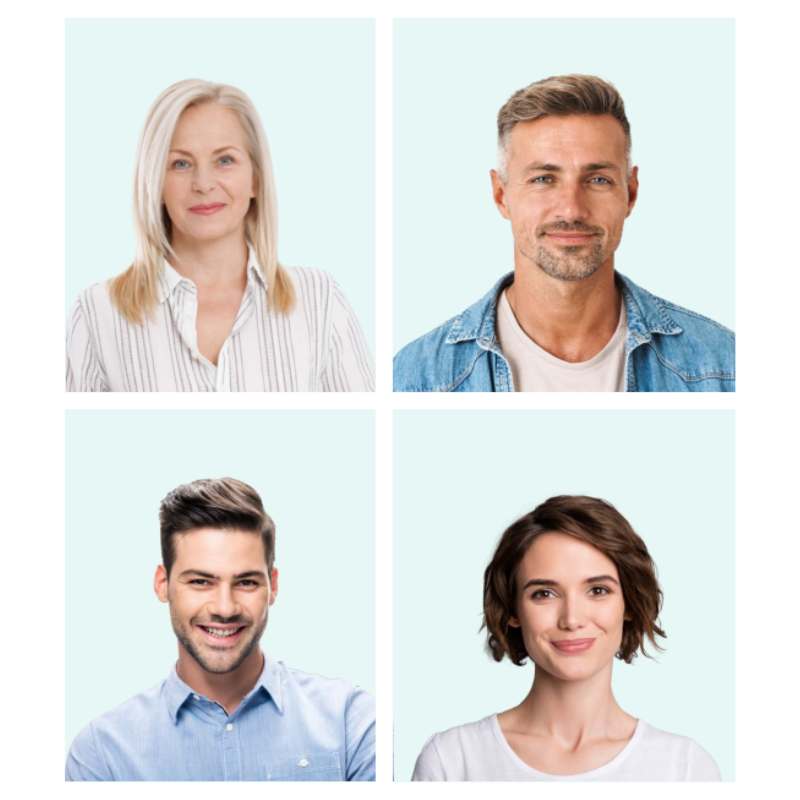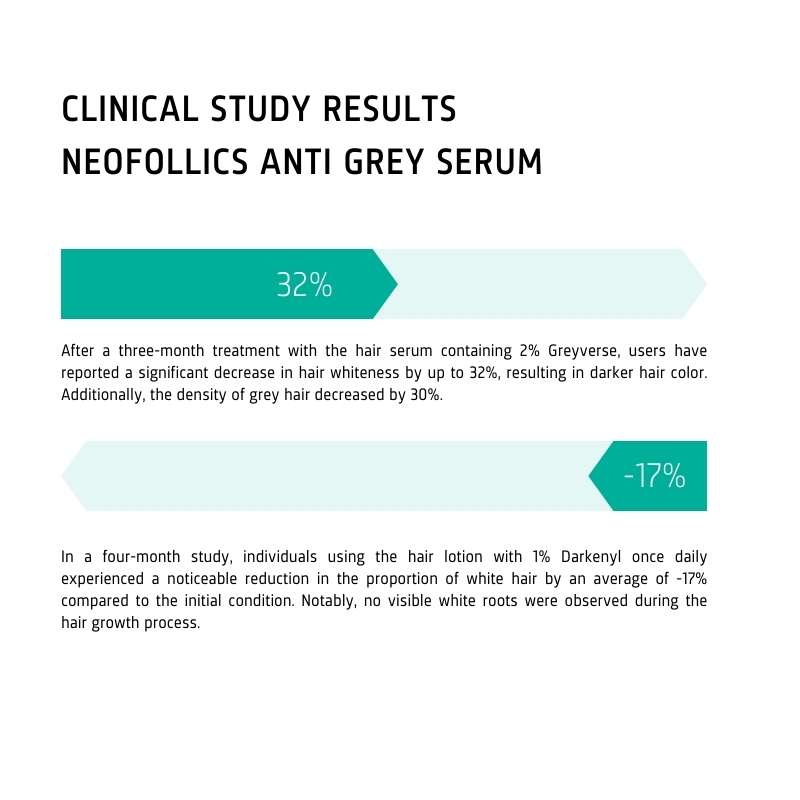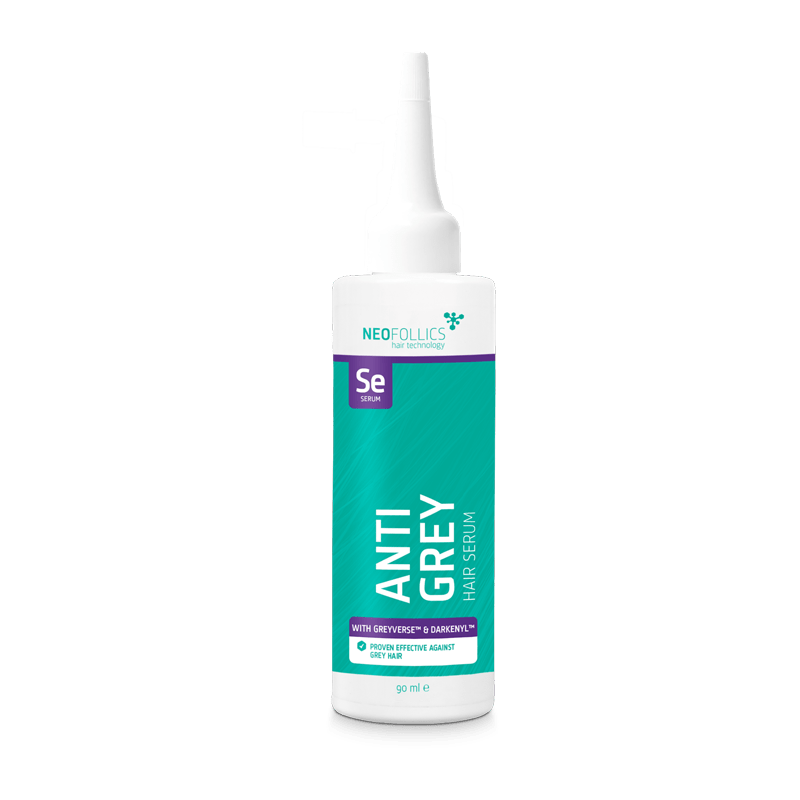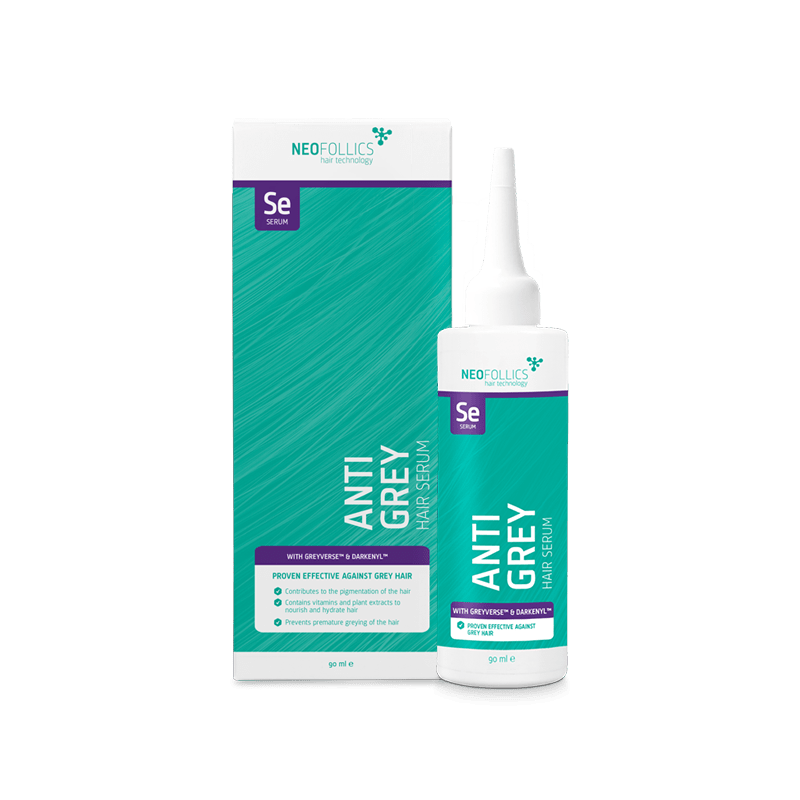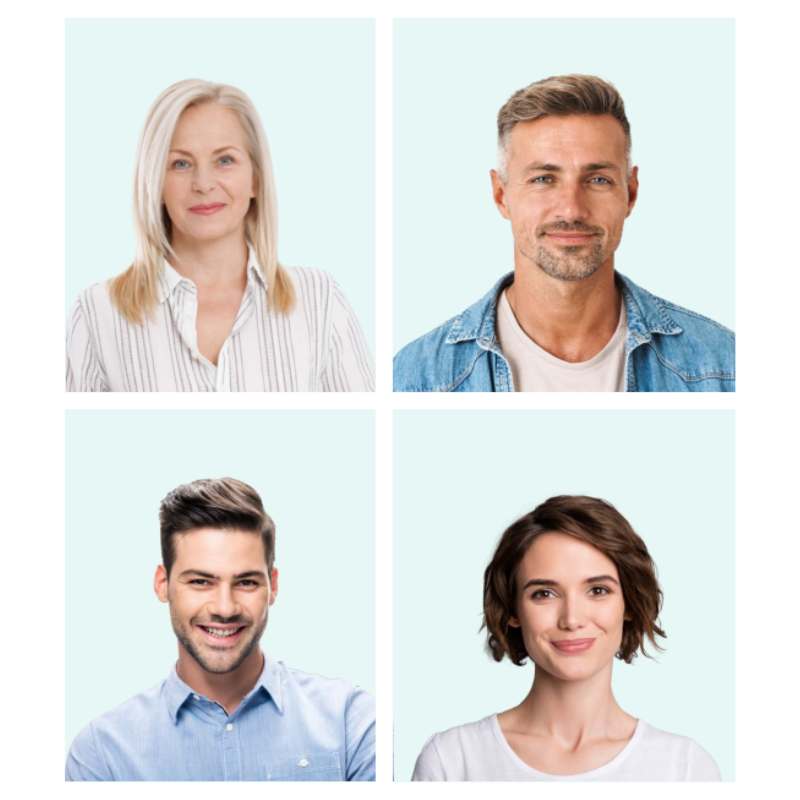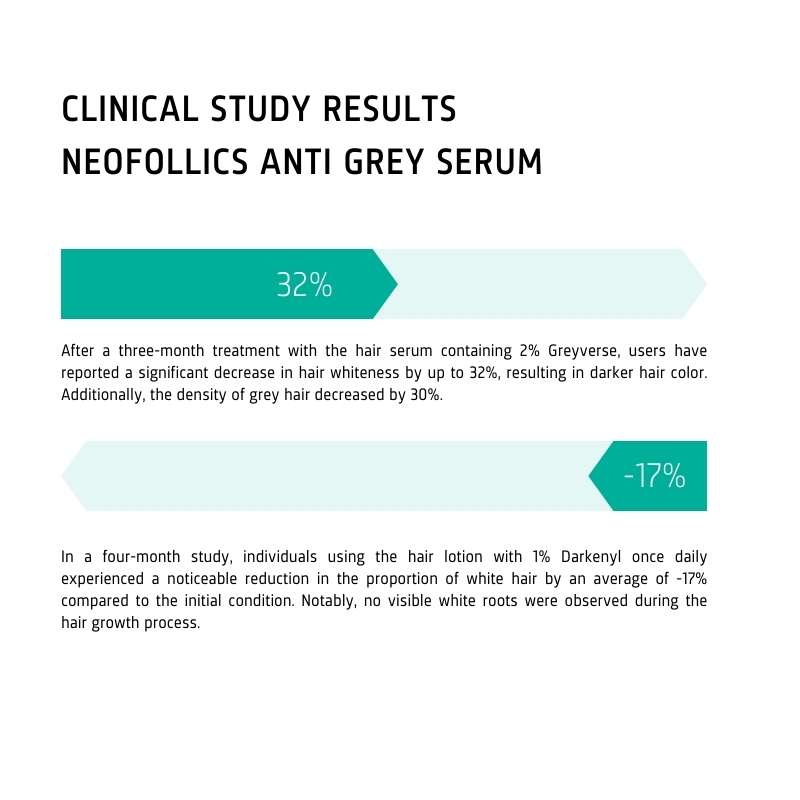 Anti-Grey Hair Serum
Restores natural hair color with targeted melanin repigmentation
Nourishes and hydrates the scalp while reducing the appearance of grey hair
Reduces oxidative stress, promoting healthy hair bulb function
* Volume discount. Purchase 2 products for 10% discount and 3 products for 15% discount.
- Lasts for up to 1-3 months
- Contains 90 ml
- Apply the anti grey hair serum once a day
- The grey hair serum is recommended to apply before bed to leave it overnight
- For best results, use in combination with Neofollics Anti-grey Tablets
Results of our customers
At Neofollics we always work from scientific insights and developments. This makes our products of high quality and clinically proven effective to reverse gray hair. We love to share with you more of the experiences of our customers.
Man, 4 months of usage
The result of a man (35) using the Neofollics Lotion. The man experienced thinning hair and wanted to do something to promote hair growth. The man is using the Neofollics Lotion for 4 months in combination with the Shampoo, Conditioner and Tablets.
This is how the Neofollics Anti Grey Serum works
The Neofollics Anti Grey Serum works in conjunction with the Anti Grey Tablets as a comprehensive two-tier treatment for addressing grey hair. The Anti Grey Tablets contain a blend of natural ingredients, including vitamins, minerals, and catalase. This unique combination targets the underlying cause of hair aging from within. Catalase plays a crucial role by inhibiting the action of hydrogen peroxide, which is known to trigger the greying process.

The Anti Grey Serum, on the other hand, is formulated with proven and patented ingredients such as Greyverse, Darkenyl, and others. These powerful components work together to help prevent, reduce, and potentially reverse the occurrence of grey hair. By incorporating these ingredients, the serum provides a targeted approach to combat greying hair. The serum works as follows:
Greyverse and Darkenyl, stimulate melanogenesis which enhances melanin in hair follicles production.

Decreases oxidative stress which preserves hair pigmentation

Antioxidants further reduce oxidative stress

Enriched with essential vitamins for a healthy scalp and hair
When used in combination, the complete anti grey treatment offers multiple working mechanisms to effectively slow down the greying process and improve the overall pigmentation of the hair.
Frequently bought together
Want to know how to stop grey hair? Use the Neofollics Anti-Grey Hair Serum to prevent grey hair and premature grey hair. Our advanced formula contains Greyverse and Darkenyl together. This is the best you can do to keep your natural hair colour and to stop grey hair. A combination of these products increases the effect on preventing gray hair and boosting your natural hair color.

Buy more, save more (combinations possible)
Purchase 2 products for 10% discount, purchase 3 products and take advantage of 15% discount.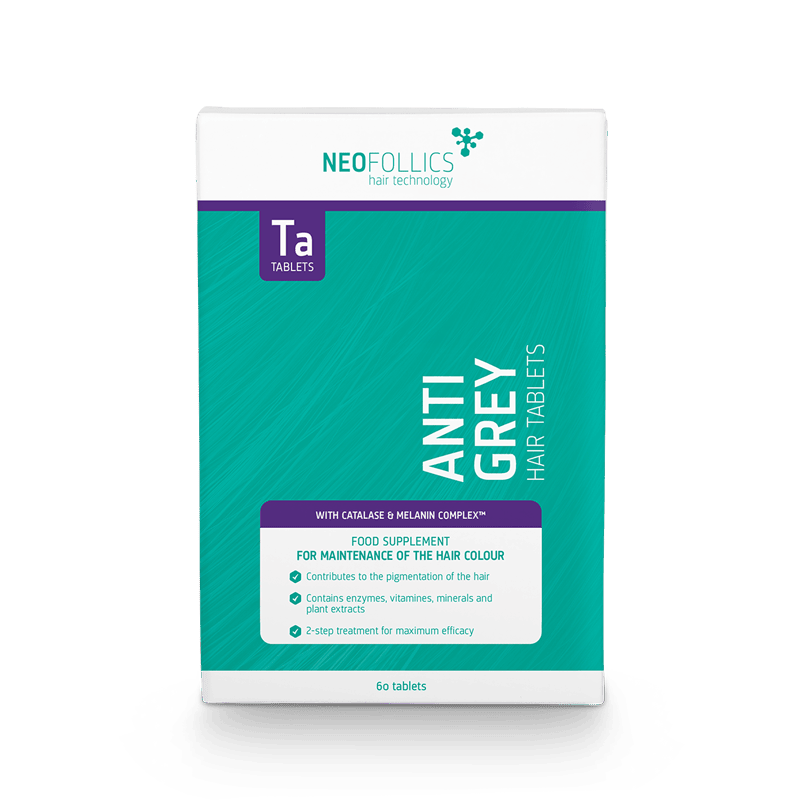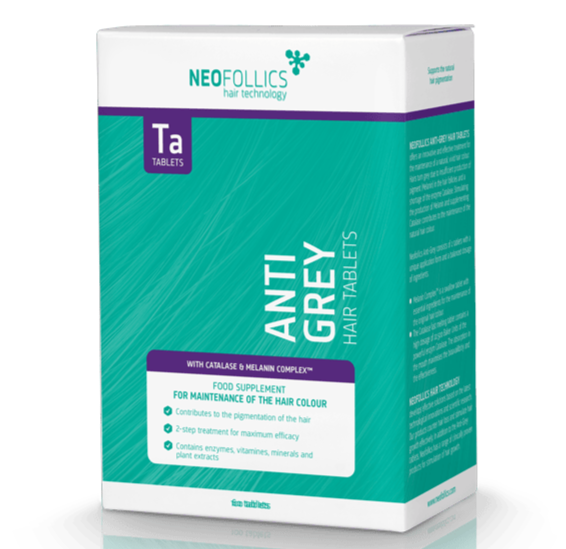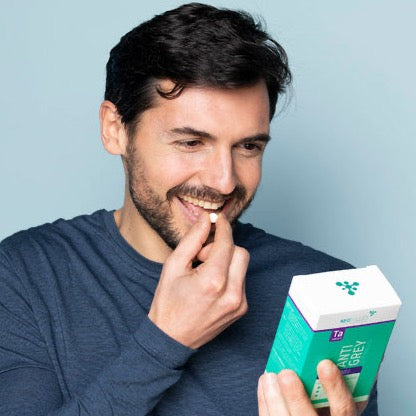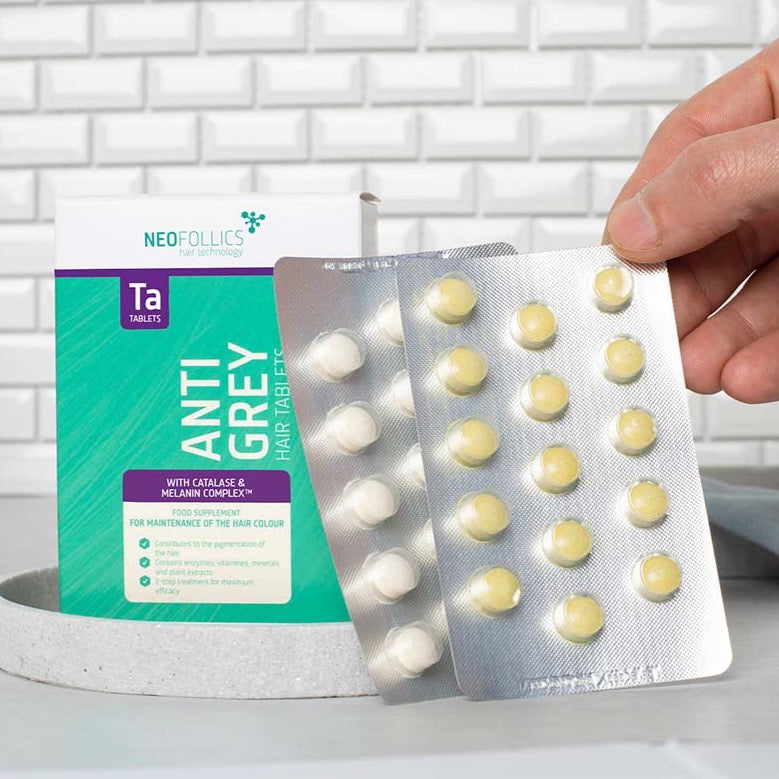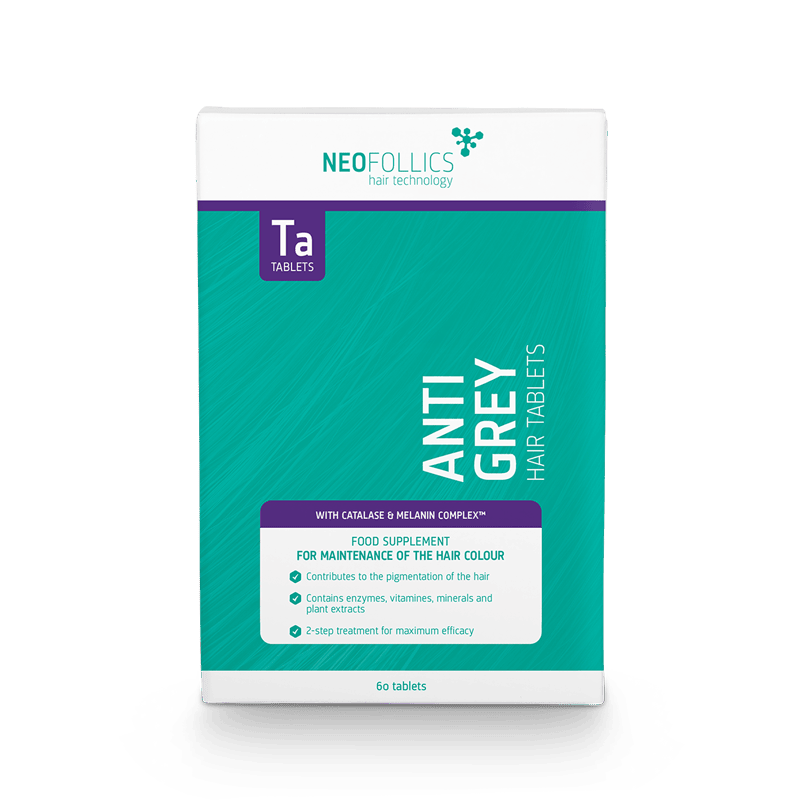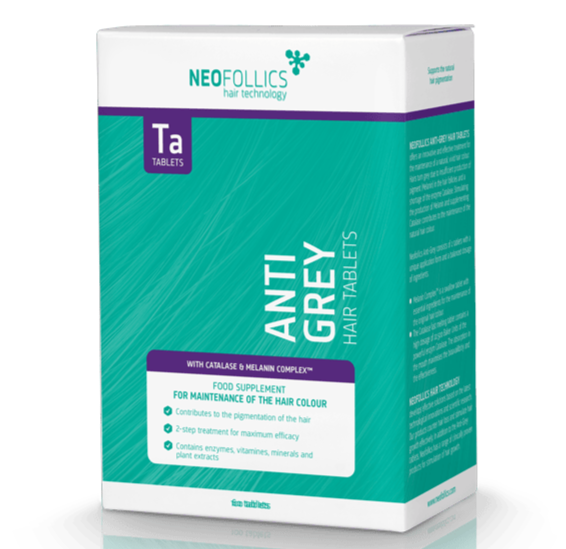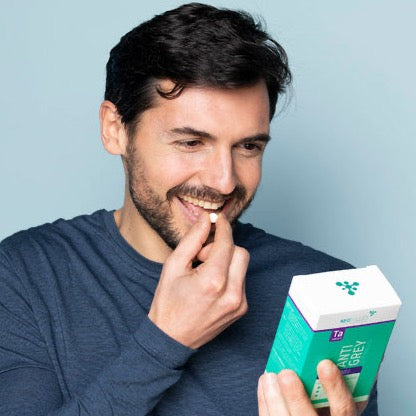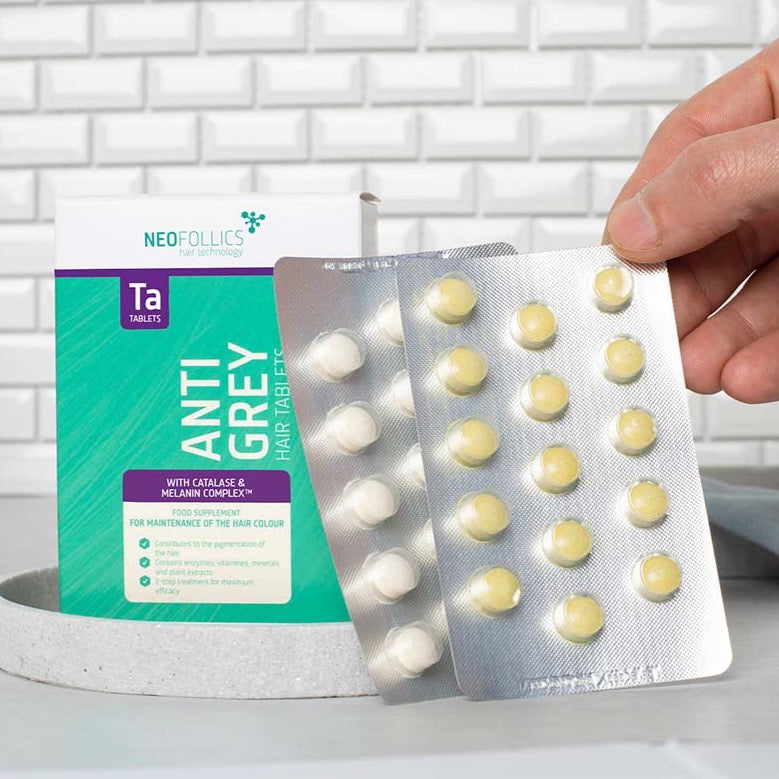 Anti Grey Hair Tablets
The most effective Anti Grey Hair Tablets that combat the root cause of greying hair.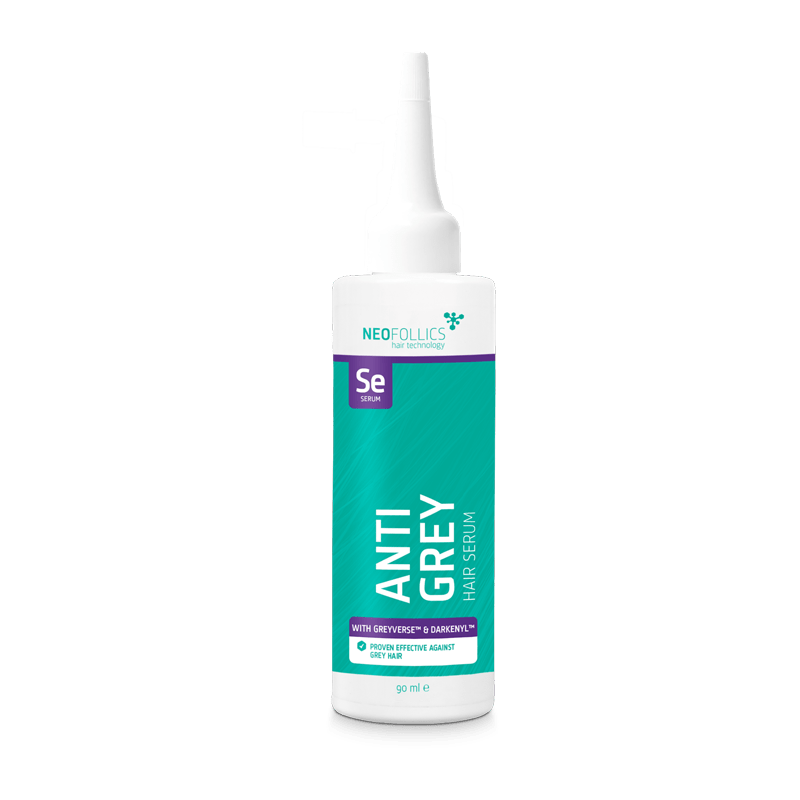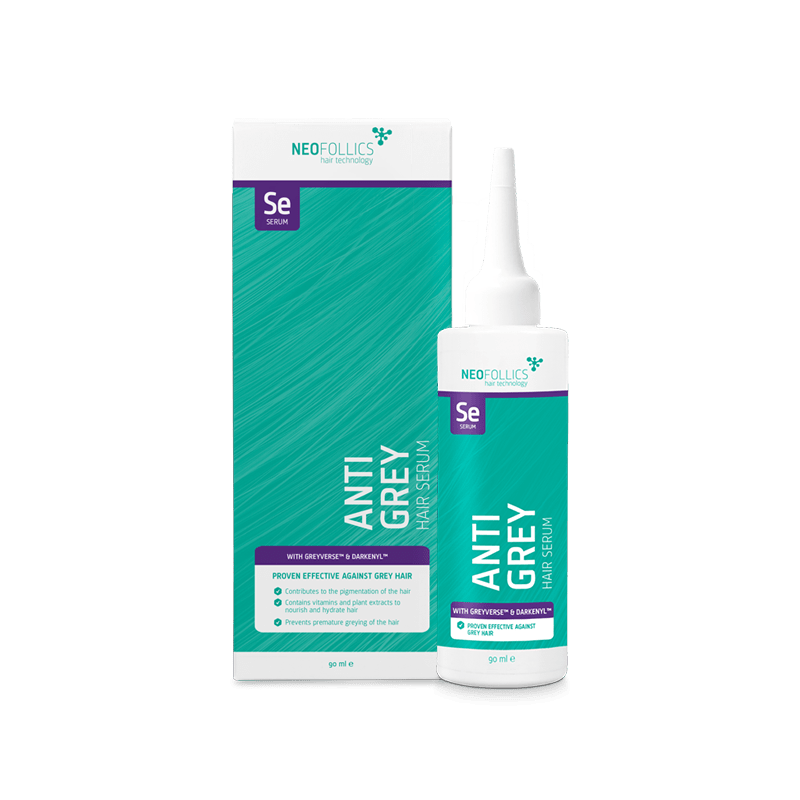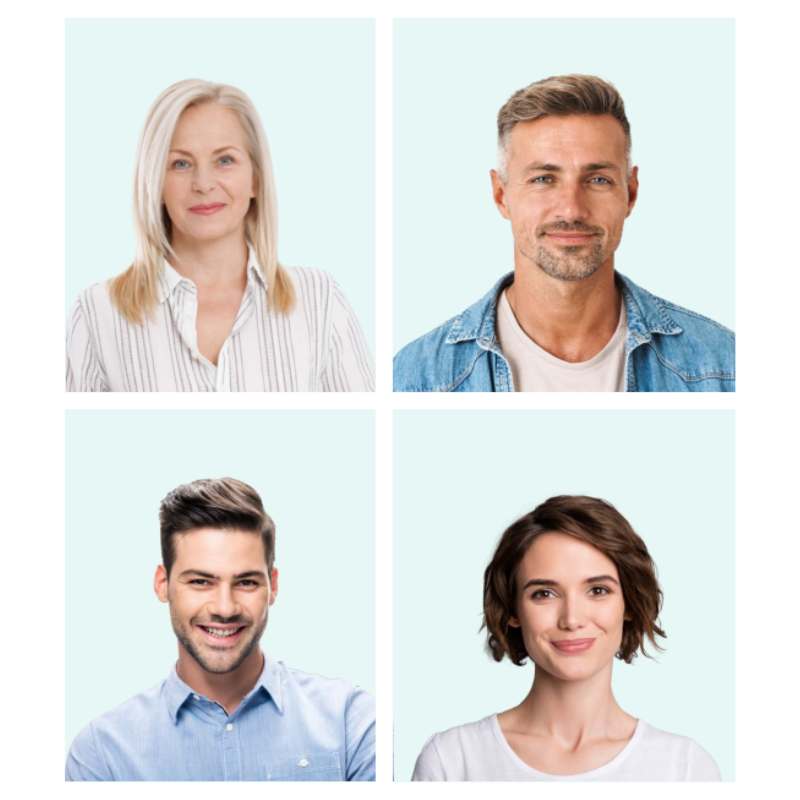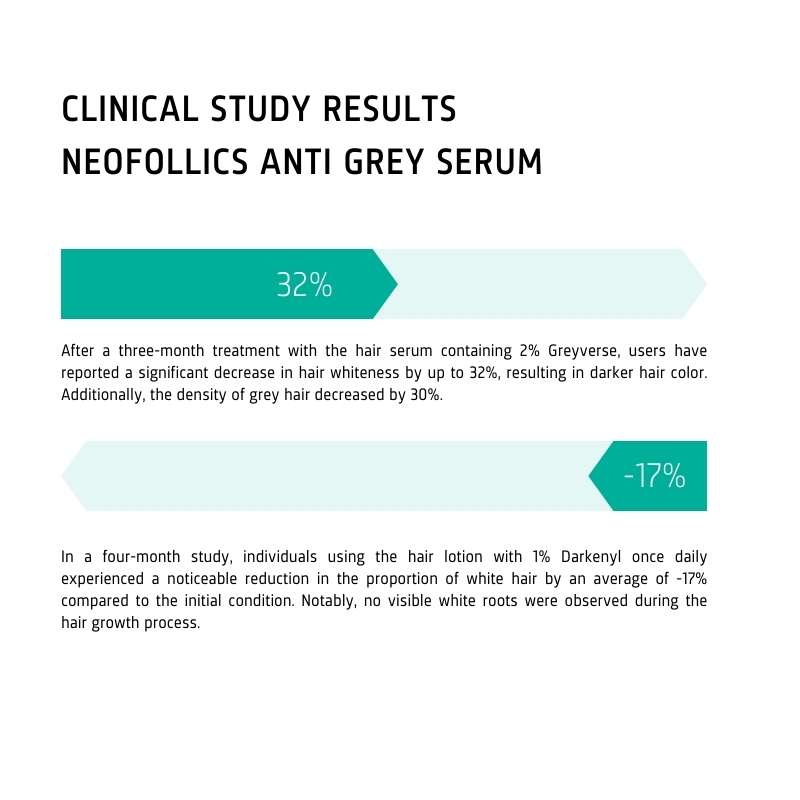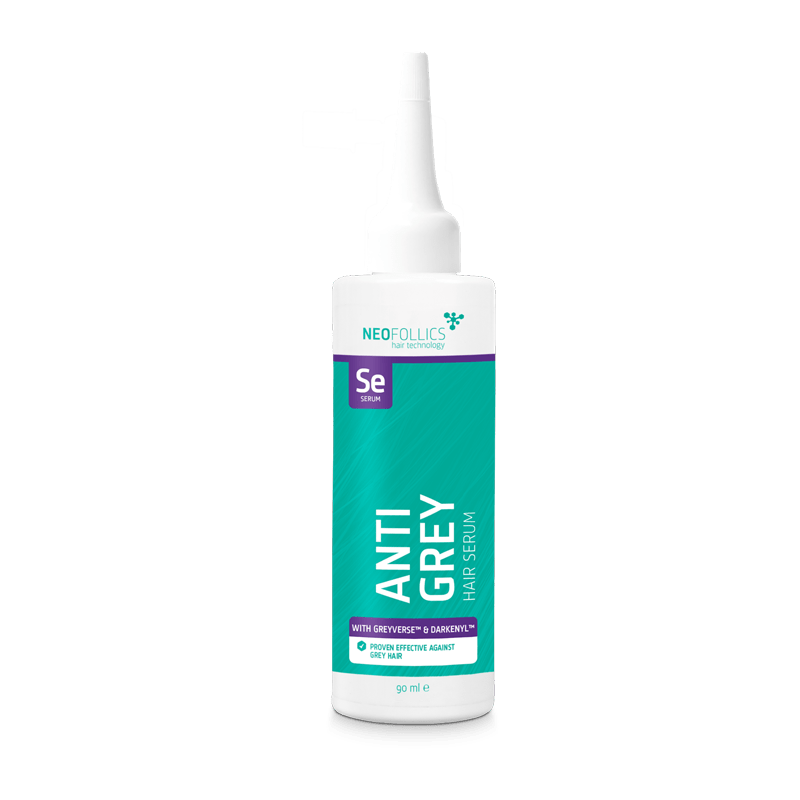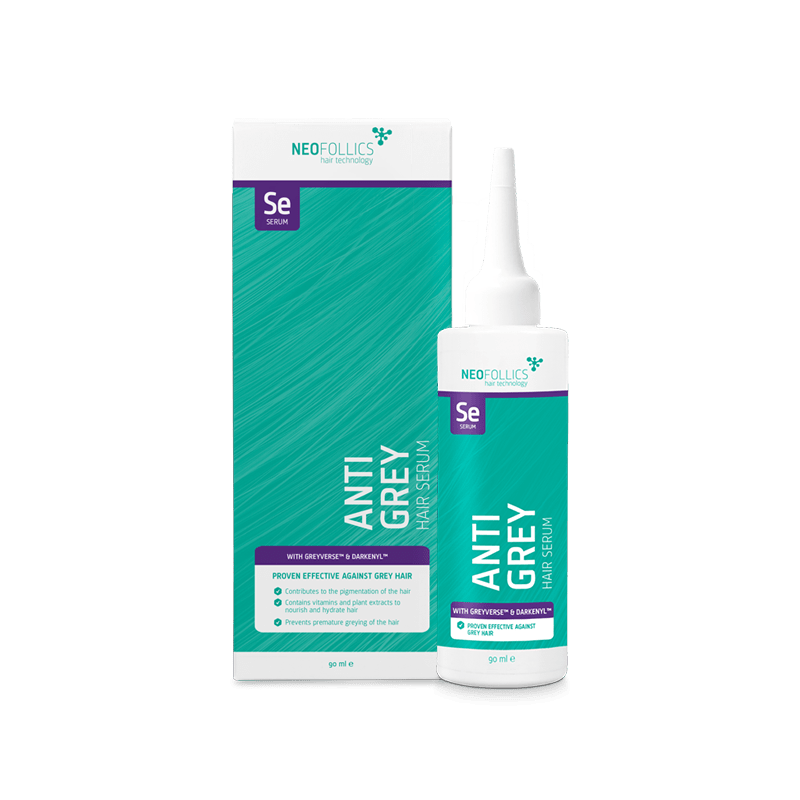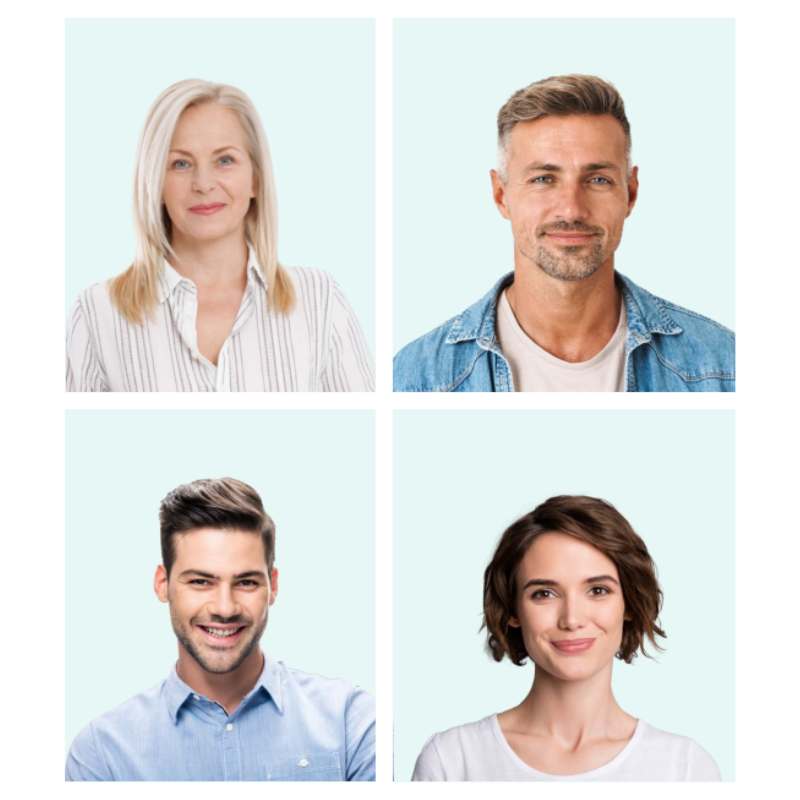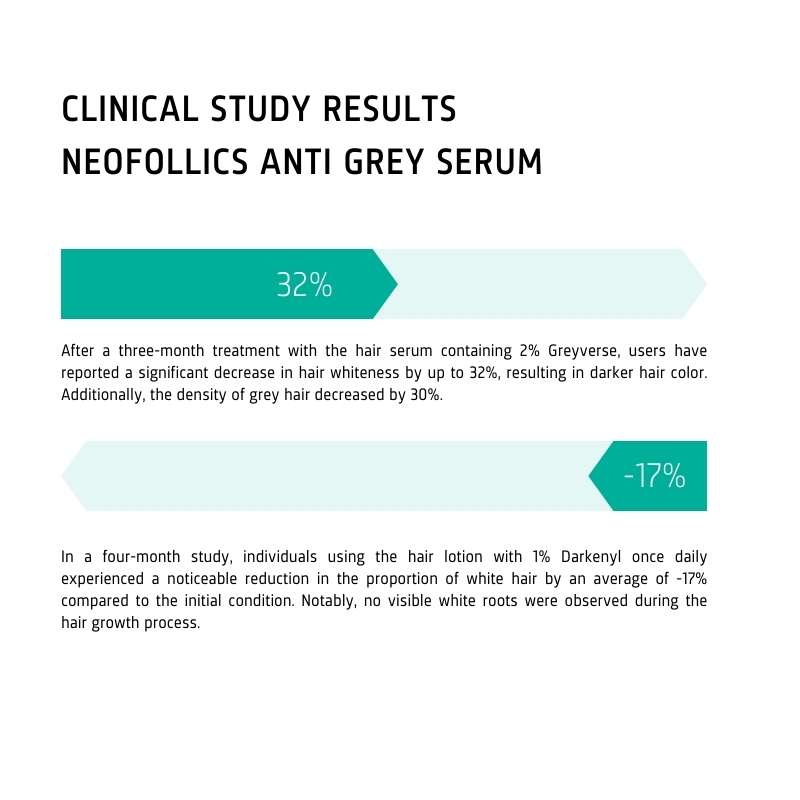 Anti-Grey Hair Serum
The Anti Grey Hair Serum prevents, reduces, and potentially reverses grey hair.
Featured reviews of the Anti-Grey Hair Serum
Neofollics has helped thousands of customers with their hair problems all over the world. We promise that if you have hair problems, using Neofollics products is the best thing you can do for your hair. Underneath you can read some reviews about the Neofollics Anti Grey Serum:
Highly recommended!
I see some hair in the bald areas. I rub my finger and i feel the spiky hairs. Great product. its only been 5 months. I'll continue using until my hair grows more.
vicken karagozian
Hair loss has decreased and new hair is growing.
The Neofollics Lotion can be used with other Neofollics hair growth stimulating products, such as our Neofollics Shampoo, Tablets, Conditioner and our scalp Roller. Using the Neofollics Lotion in combination with our recommended products will give you the best result.
Margaret Sheeran
Fantastic!
The Lotion is awesome, easy to use, no itchy, if you are consistent twice a day, you will see the results. I have been using this lotion for about 4 months and I can see new hair and also stop shedding. Very good product. Thank you.
Laura Isturiz
Good
The product seems to help , do not yet notice an improvement in hair fullness , but do notice that my hair loss is already much less than before ;) and am happy with this. The pharmacy products get a lot of chemical and greasy , which caused acne on my scalp , which I no longer have with this product and your exfoliation shampoo
Dimitri Verstrepen
I have been using the Neofollics Lotion for exactly one year now together with the tablets, shampoo and conditioner. Hair loss has decreased and new hair is growing.
I use the products as hair loss has decreased and sparse areas on my scalp have filled in.
Margaret Sheeran
So far not bad
Using the product to replace using another as the activ ingredients in neofollics seems more beneficial. So far so good the package looks nice and is easy and well instructed, product absorbés fast and leaves the hair looking thicker and fuller and scalp feeling a bit tingling. Don't like the initial smell but it gose away as soon as it's fully absorbed
Samuel Holmes
Works great. Like it.
Prevention of thinning hair. Seems to do the job effortlessly.
Yassine Sabri
It's fine.
I think the lotion does help stabilize hair loss. Whether it promotes hair growth I cannot say yet. I am almost 2 months into the package and I definitely want to have used everything consistently for 6 months and then make a judgement on it.
Cynthia Korthuis
Fantastic!
I'm located in the US and am on my second bottle and happy with my results so far. I like that the ingredients aren't like the products here in the US after having a reaction to them. So far so good but not at 3 months yet and like the results so far.
Howard Driggers
Frequently asked questions
Underneath you will find answers on the frequently asked questions we received about the Neofollics Anti-Grey Hair Serum.
How to use the Neofollics Anti Grey Serum
To use the Neofollics Anti Gray Hair Serum, you can follow these steps:

Make sure your scalp and hair are clean.


Take a sufficient amount of the serum in your hand.

Apply the serum directly to your scalp.

Gently massage the serum into your scalp using your fingertips.

Ensure that the serum is evenly distributed over the entire scalp.

Leave the serum in and do not rinse it out.

For best results, it is recommended to use the serum once a day, preferably before bedtime.

For optimal effectiveness, consider using Neofollics Anti Grey Tablets in combination with the serum for the best anti grey hair treatment.
Remember to read the product instructions and consult a healthcare professional if you have any specific concerns or conditions. It is for adult use only and not suitable for children.

Clinical Study Results Neofollics Anti Grey Serum
Neofollics Anti-Grey Hair Serum incorporates a blend of powerful active ingredients, such as Greyverse and Darkenyl, which have been extensively tested in clinical studies and consumer trials among both men and women experiencing greying hair.
Greyverse: After a three-month treatment with the hair serum containing 2% Greyverse, users have reported a significant decrease in hair whiteness by up to 32%, resulting in darker hair color. Additionally, the density of grey hair decreased by 30%.
Darkenyl: In a four-month study, individuals using the hair lotion with 1% Darkenyl once daily experienced a noticeable reduction in the proportion of white hair by an average of -17% compared to the initial condition. Notably, no visible white roots were observed during the hair growth process.
These scientific findings validate the effectiveness of Neofollics Anti Gray Hair Serum, offering a promising solution for individuals seeking to address the appearance of grey hair.
View image
Scientifically proven ingredients in optimal concentration
Neofollics Anti Gray Hair Serum, an advanced anti gray hair treatment, harnesses the power of key ingredients such as Greyverse, Darkenyl, Cucumis Melo extract, green tea extract (Camellia Sinensis Leaf Extract), and safflower extract (Carthamus tinctorius) to address various aspects of gray hair concerns.
The Neofollics Anti Grey Hair Serum contains the following ingredients: . Aqua, Polyglyceryl-10 Laurate, Glycerine, Hydroxypropyl Guar, Acetyl Tyrosine, Xanthan Gum, Palmitoyl Tetrapeptide-20 Amide, Cucumis Melo Fruit Extract, Camellia Sinensis Leaf Extract, Larix Europaea Wood Extract, Tocopheryl Acetate, Ethylhexylglycerin, Disodium EDTA, Hydroxypropyl Guar Hydroxypropyltrimonium Chloride, Carthamus Tinctorius Flower Extract, Lecithin, Pelargonium Graveolens Oil, Zinc chloride, Maltose, Lavendula Angustifolia Oil, Niacinamide, Panthenol, Citronellol, Geraniol, Linalool, Agave Tequilana Leaf Extract, Hydrolyzed Quinoa, Glycine, Sodium Hyaluronate, Sodium Metabisulfite, Tris-Biphenyl Triazine, Phenoxyethanol, Decyl Glucoside, Sodium Benzoate, Butylene Glycol, Potassium Sorbate, Citric Acid, Disodium Phosphate, Sodium Hydroxide.
Our story and the vision of Neofollics
Maik van den Berg, founder of Neofollics, suffered from hair loss years ago. A referral to the dermatologist did not bring a solution.

The lack of honest, effective and user-friendly means of promoting hair growth prompted Maik to work with a team of specialists to develop products that would meet the needs of millions of people with hair problems and to stop grey hair. The result is Neofollics Hair Technology.

Neofollics uses state-of-the-art production facilities in the Netherlands (EU), which exceed even the strictest European rules and regulations. We set the strictest quality requirements when purchasing our raw materials and production.
Read more
Results guaranteed. Join our program.
We have a 100% satisfaction guarantee so we can give you always the best solution to stop and prevent grey hair. Join this program and if you don't get the expected result, you will get your money back.
Step 1:
Step 1: Fill in the questionnaire to join the program.
Step 2:
Step 2: Document your progress by sending us your before pictures
Step 3:
Step 3: Our R&D department evaluates your situation and considers the possible result to be reached for your grey hairs.
Step 4:
Step 4: After 180 days, we look at your after photos and the results achieved.
Dr. Ali Numan
Dermatologist
"Neofollics helps us to achieve the best results for our clients. The products are fantastic with capabilities to replace the chemicals and drugs that are currently on the market to combat grey hair. The user-friendliness and the fine ingredients ensure that our clients can use the products daily. The Neofollics products also show that improvement and conservation occur in hair growth."
Order now
Hair Growth Stimulating Lotion Reviews
Neofollics has helped thousands of customers with their hair problems all over the world. We promise that if you have hair problems, using Neofollics products is the best thing you can do for your hair. Underneath you can read some reviews about the Hair Growth Stimulating Lotion.