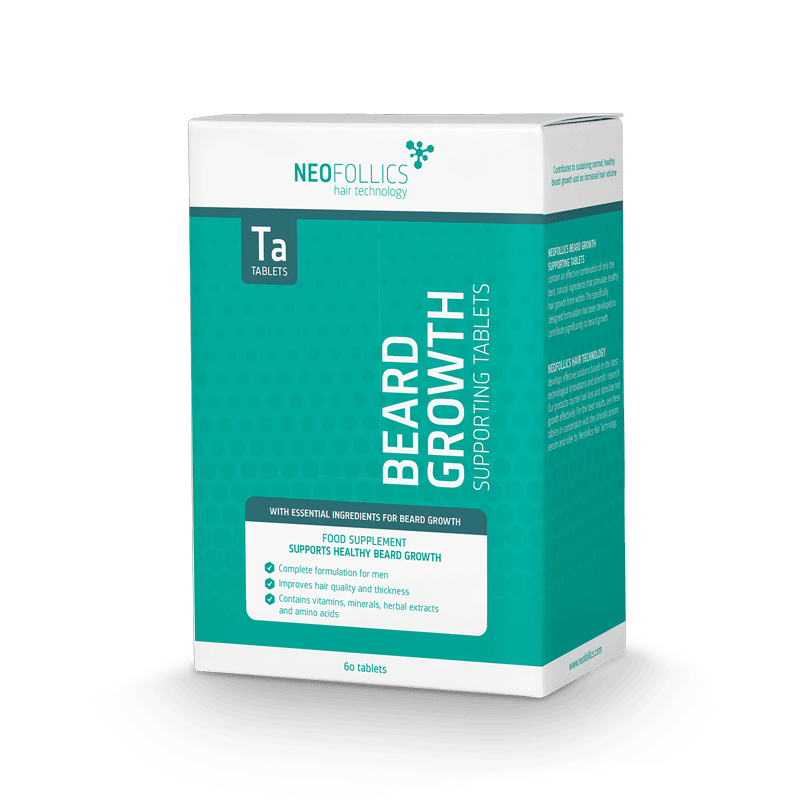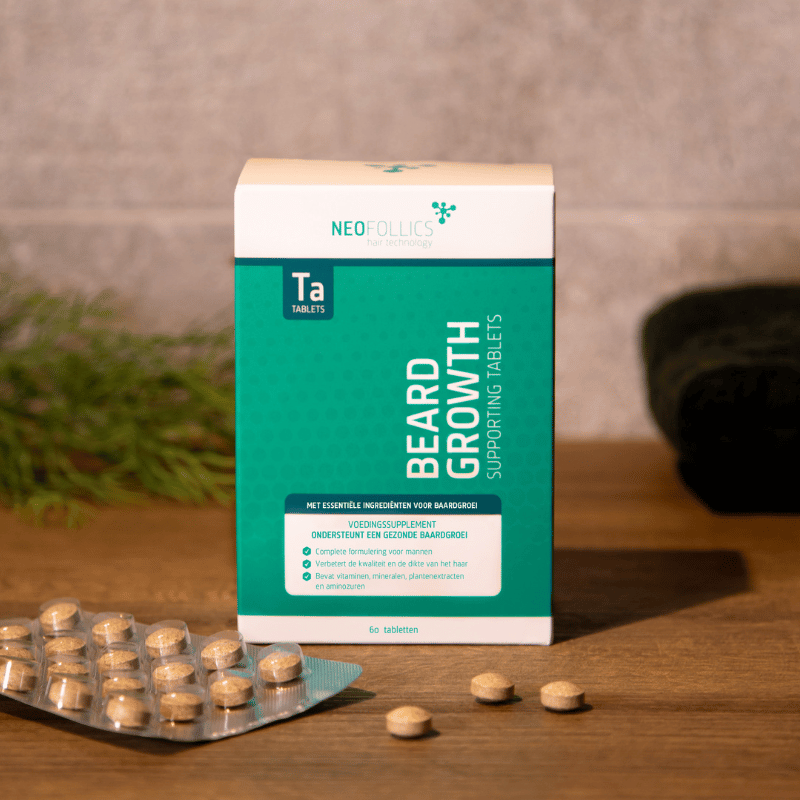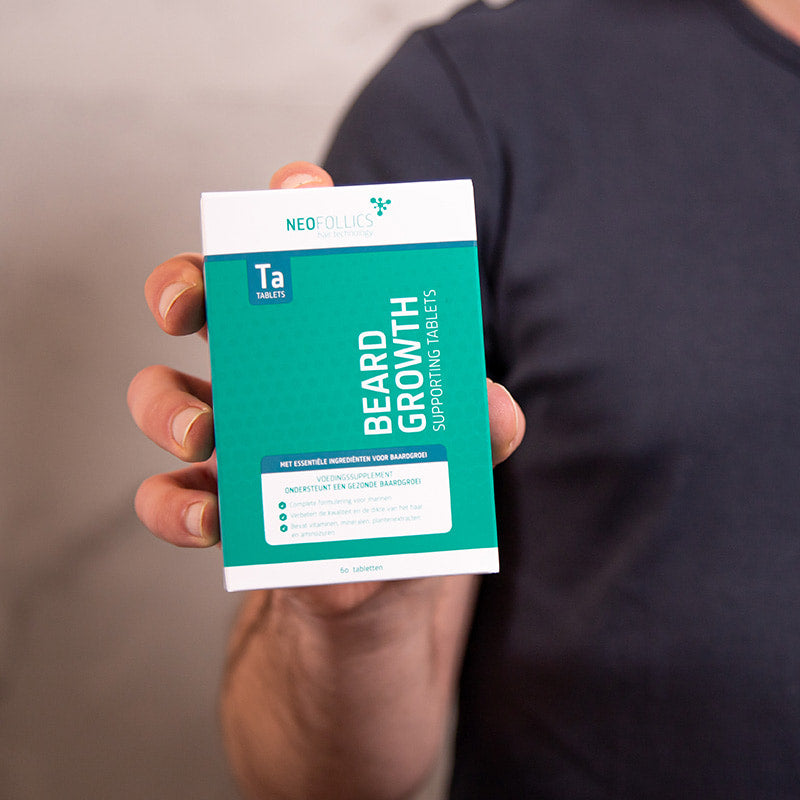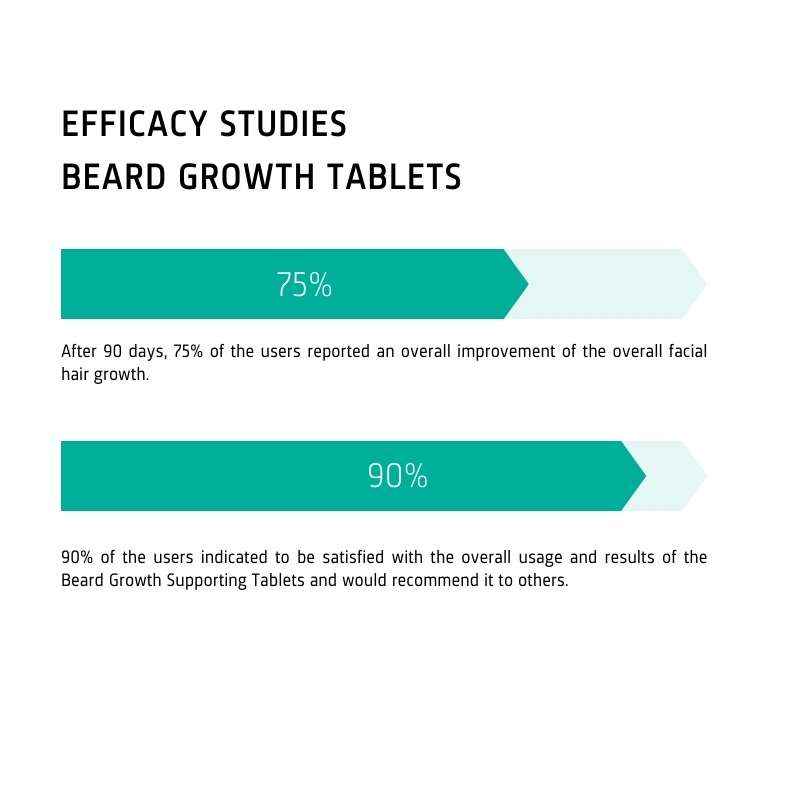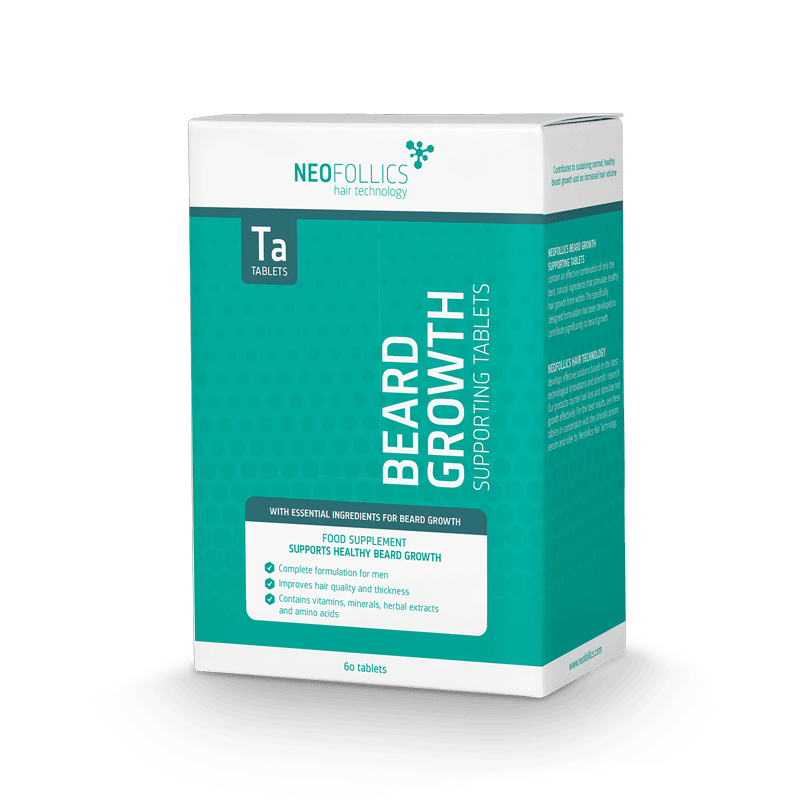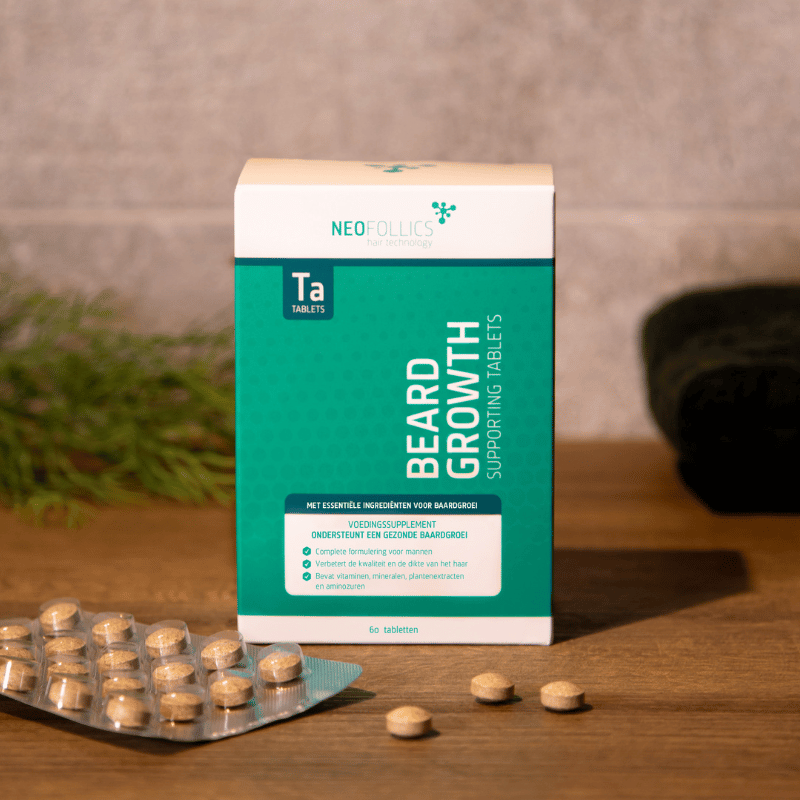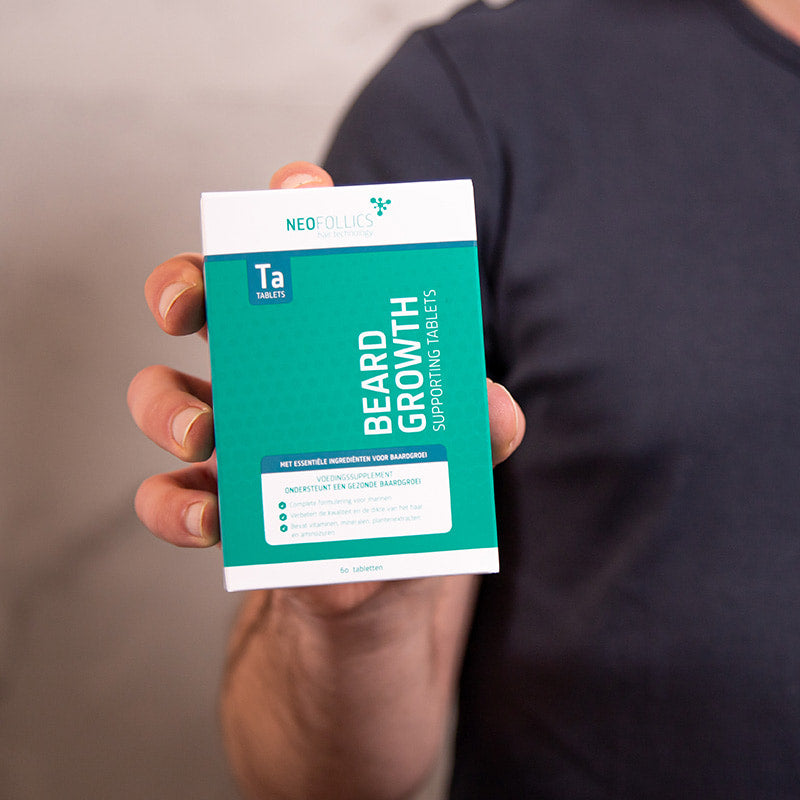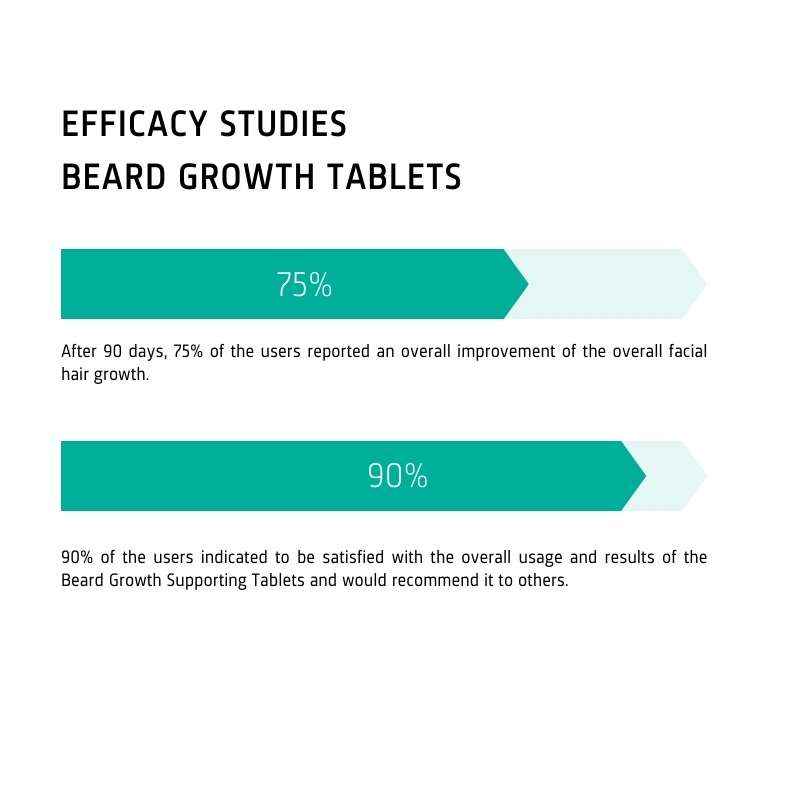 Beard Growth Supporting Tablets
Improves and stimulates beard growth
Helps to increase the health of hair follicles
Contains essential nutrients for nourished beard hairs
* Volume discount. Purchase 2 products for 10% discount and 3 products for 15% discount.
- Easy-to-use for promoting beard growth anytime
- Includes 60 tablets, providing a one-month supply
- Use 2 tablets per day for the best results
- First results visible in three to six months
Results of our customers
At Neofollics we always work from scientific insights and developments. This makes our products of high quality and clinically proven effective at stimulating beard growth. We love to share with you more of the experiences of our customers.
Male (29 y/o), 4 months of usage
Male who used the Beard Growth Serum in combination with the Beard Growth Enhancing Roller and Beard Growth Supporting Tablets for 4 months.
This is how the Neofollics Beard Growth Tablets works
Neofollics Beard Growth products are developed to promote healthy beard growth by addressing the underlying factors that contribute to slow or patchy facial hair growth. These beard growth pills contain a proprietary blend of natural ingredients that are scientifically formulated to nourish hair follicles from within, stimulating them to produce stronger and thicker beard hair. The beard growth pills work in six different ways to improve the growth and appearance of facial hair:
Stimulate hair growth

Prolong the hair growth phase

Improve skin condition

Provide essential nutrients

Increase the health of hair follicles

Nourish the beard and moustache
Frequently bought together
By using a combination of Neofollics supplements, serum, and the roller, you will improve beard growth and thicken your beard.

Buy more, save more (combinations possible)
Purchase 2 products for 10% discount, purchase 3 products and take advantage of 15% discount.
Neofollics Beard Growth Stimulating Serum
Stimulates non-activated beard follicles by providing them with essential ingredients.
Neofollics Beard Growth Enhancing Roller
The most advanced Beard Roller that activates and stimulates beard growth in multiple ways.
Hair Growth Stimulating Conditioner
Effectively improves and stimulates the condition of the hair.
Beard Growth Treatment Reviews
Neofollics has helped thousands of customers with their hair problems all over the world. We promise that if you have hair problems, using Neofollics products is the best thing you can do for your hair. Underneath you can read some reviews about the beard growth pills.
Scientifically proven ingredients in optimal concentration
The Beard Growth Supporting Tablets of Neofollics contain 18 Essential Ingredients for Beard Growth, which are a proprietary complex of vitamins, minerals, and herbal extracts: Ashwagandha, Biotin, Copper, D-Aspartic Acid, Fenugreek (Testofen), Folic Acid, L-Carnitine-L-Tartrate, MSM, Nicotinamide, Riboflavin, Selenium, Taurine, Vitamin B5, Vitamin B6, Vitamin B12, Vitamin D3, Zinc.

The Neofollics Beard Growth Supporting Tablets are clinically proven and vegan. Read more.
How to use Neofollics Beard Growth Supporting Tablets?
To use Neofollics Beard Growth Supporting Tablets, follow these five steps:


Open the package which contains 60 tablets, sufficient for 1 month. Remember to take the recommended dosage of 2 tablets per day with a meal.


For consistency you can take the beard growth supplements at the same time every day.

Swallow the tablets by mouth and be patient to see the results.

When you combine Neofollics Beard Growth Products, such as a Beard Roller and Beard Serum, with beard growth supplements, you can enhance the effectiveness of your beard growth routine. We recommend starting with the Beard Roller, followed by the Beard Serum, and finishing with the Beard Supplements for the best results when using these products in combination.
Frequently asked questions
Underneath you will find answers on the frequently asked questions we received about the Neofollics Lotion.
Efficacy studies Beard Growth Tablets
The Neofollics Beard Growth Supporting Tablets have been evaluated through a study among users (men aged 18-39 with limited to normal) beard growth.

After 90 days, 75% of the users reported an overall improvement of the overall facial hair growth Furthermore, 90% of the users indicated to be satisfied with the overall usage and results of the Beard Growth Supporting Tablets and would recommend it to others.

An efficacy study on the combined treatment including the Roller and Serum is currently in progress.
Our story and the vision of Neofollics
Maik van den Berg, founder of Neofollics, suffered from hair loss years ago. A referral to the dermatologist did not bring a solution.

The lack of honest, effective and user-friendly means of promoting hair growth prompted Maik to work with a team of specialists to develop products that would meet the needs of millions of people with hair problems. The result is Neofollics Hair Technology.

Neofollics uses state-of-the-art production facilities in the Netherlands (EU), which exceed even the strictest European rules and regulations. We set the strictest quality requirements when purchasing our raw materials and production.
Read more
Results guaranteed. Join our program.
We have a 100% satisfaction guarantee so we can give you always the best solution for your hair. Join this program and if you don't get the expected result, you will get your money back.
Step 1:
Step 1: Fill in the questionnaire to join the program.
Step 2:
Step 2: Document your progress by sending us your before pictures
Step 3:
Step 3: Our R&D department evaluates your situation and considers the possible hair growth result to be reached.
Step 4:
Step 4: After 180 days, we look at your after photos and the results achieved.
Dr. Ali Numan
Dermatologist
"Neofollics helps us to achieve the best results for our clients. The beard growth vitamins are fantastic with capabilities to replace the chemicals and drugs that are currently on the market to combat hair loss. The user-friendliness and the fine ingredients ensure that our clients can use the products daily. The Neofollics products show that improvement and conservation occur in beard growth."
Order now